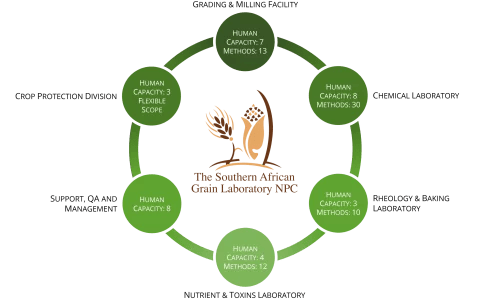 Grading & Milling Laboratory Methods
Chemistry Laboratory Methods
Nutrients & Contaminants Laboratory Methods
*Sliding scale prices can be implemented on projects / large number of samples.
Rheology & Baking Laboratory Methods
Please include the expected time-line for the forwarding of the samples to SAGL, as well as the expected lead-time required for the testing of samples to enable SAGL to provide you with an efficient,  reliable and accurate service.
Sample masses must be determined according to the list of tests requested.  Please ensure that the sub-samples submitted are representative of the entire consignment.
Each sample consignment must be accompanied by a completed  analyses request form (contact information, order number, sample reference(s), list of analyses, different components for product mixtures (if applicable to your samples) and Regulatory information (where  applicable).
Sample consignments received without an analyses request form will be placed on hold until customer/sample traceability has been established.
Each sample should be clearly marked with the specific product information when submitted to the SAGL for testing, this information will determine if products fall within the scope for each methodology.  This is critical information required during the registration process.
Delivery costs pertaining to postage, rail freight, airfreight, courier and  inter media banking charges, will be for the account of the consignor, unless otherwise agreed with the Management of the SAGL.  SAGL will take responsibility for the sample consignment once received at the SAGL's laboratory.
All samples must be packaged in such a way as to minimise the risk of damage during transit.
Moisture samples for dispute or calibration purposes should always be forwarded in air/moisture tight screw cap containers as environmental conditions can influence the samples' moisture content.  Sample containers should always be filled to the top.
To prevent loss of vitamin content, samples should be protected from light/heat and be packaged in dark packaging.
Lead-times will be determined according to the number of samples received, the list of analyses requested and the workflow  in the SAGL's laboratories.
Where moisture content (z), protein content (p), mixogram (l) and fat content (u) is a factor in certain analyses, an additional fee for a single analysis (moisture, protein, mixogram or fat) is applicable.  Additional costs apply for the (v) preparation of barley samples (rub, sieve and milling) and the drying of bread prior to testing.
Should a specific matrix not be included in the method's scope and/or field of application, the following note will appear on the test report: Product does not form part of the method's scope. Please refer to SAGL's schedule of accreditation.
Granulation (Particle size): Five sieves and the pan is included in the cost for a single sieve test. Customers are requested to list the sieve sizes on the analyses request according to their product specification.  List of SAGL sieves
Preparation costs for samples or analyses outside our normal scope of testing can only be determined once the samples were received and assessed.
Vitamin and mineral testing:

Regulations relating to the fortification of certain foodstuffs, Government Gazette No. 24715, 7 April 2003, specifies the following: – Wheat flour: 14% moisture basis – Maize meal: 12.5% moisture basis – Wheat bread: 39% moisture basis.  Micronutrient Composition of Fortified Foodstuffs
Please provide any available vitamin and mineral specifications with the sample consignment to assist SAGL with standard dilutions during the preparation of samples for vitamin analyses. Important: SAGL's methodologies are optimised for specific products of which the compositions are known. Since different product compositions may require deviations to the method, this information should be provided.  SAGL will advise the customer should any method deviations be applicable prior to commencement of the analysis since additional costs may be involved.

The test results of calibration/verification samples can only be guaranteed when homogeneity testing was done.
Calibration/verification samples should be submitted and stored in air tight screw cap containers, filled to the top, to prevent changes to the moisture content as a result of environmental conditions.
The test results documented in reports relates only to samples tested and does not apply to any similar untested samples, therefore the intended use of a report relates only to this specific sample consignment.
Uncertainty of measurement values for specific analytical methods are available on request. Uncertainties are calculated on a 95% confidence level, coverage factor 1.96.
Where applicable the samples received are thoroughly mixed before analysis.
If available, sealed arbitration samples are retained for one month by the SAGL for future reference.
Reports may not be reproduced, except in full.  When only certain pages or sections of a full report are reproduced, written permission must be provided by the SAGL's General Manager.
The SAGL, or its members, shall in no way be liable for any error made when carrying out a test or erroneous statement, whether in fact or in opinion.
SAGL's prices can be revised without prior notice.
Please note that all prices quoted are excluding VAT.
Results will be placed on hold until the order number/proof of payment has been received.
Terms are strictly 30 days and must be paid on the receipt of statement. Results will be placed on hold if account is 90 days+ overdue.
When no samples were submitted to the SAGL for more than twelve consecutive months, customers will be required to complete new documentation and new customer policy will apply.
Sliding scale prices can apply for large numbers of samples submitted simultaneously for HPLC, Multi-Mycotoxins and AA analysis.
Quotation/Pro-Forma Invoice will be forwarded to new customers for approval. SAGL will only proceed with registration of sample(s) once a signed Quotation/Pro-Forma Invoice and proof of payment was received.
Upfront payment will apply to the first three sets of consignments received over a period of three consecutive months.
Please forward a copy of the deposit slip via fax/e-mail to SAGL.
Account can only be approved after three months subject to the receival of the required company information. Thereafter the terms are strictly 30 days. 
Quotation/Pro-Forma Invoice will be forwarded to customer for approval.
SAGL will only proceed with registration of sample(s) once signed Quotation/Pro-Forma Invoice and proof of payment was received.
Results will be released once confirmation of payment was received from the SAGL's bank.